First I want to say that Friday was my Nannie's birthday. I didnt forget, I called her Friday morning before we left to wish her a Happy Birthday. She is 80 years old. I Love You Nannie...
Well as most of y'all know we left Friday morning for the beach. And not only was that the excitment for the morning, but we also woke up to a dusting of snow.. How cool is that. We hardly ever get snow and when we do this is about all we get.
So off we go to the beach. We had a very good day to travel. The sky was blue and the air was crisp. I love the drive down, so many little towns and interesting things to see. My most favorite thing to see is the cotton fields. Fields and fields of cotton.
We went through the big attraction of South of the Border. Lots of things to do there too, but it was too cold to stop and enjoy anything.
So Friday we made it down safe and sound. It was bone chillin' cold though. The wind would just rip right through ya. Here is the waterway there in Conway. Not much longer now..
After ariving at the hotel, Wesley would not take a nap. He was just too excited to sleep. We headed over to Broadway @ the Beach for a little store hopping, and some good eatin'! We shopped around for a little while then we headed over to Margaritaville for whatelse, but a Chesseburger in Paradise.
Here is my little parrot head.. Aint he a cutie?
Here's my other parrot head, but he wouldnt wear the mask.. I cant imagin why!!
The only thing I didnt have was the cold draft beer.. Giggle... I have somemore pics of the resturant in my slideshow. So be sure to check it out.
So while we were waiting for our food to come, we were entertained by It's 5 o'clock somewhere. The huge hurricane in the ceiling starts spinning and well, if you want you can just watch the video. I hope it will play for y'all.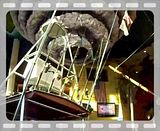 Saturday was a little warmer and that was a day full of shopping and eating as well. Before we did all of that we took Wesley down to the beach to look for sea shells. He had a ball.
Mama and Daddy love to hit the resutrants. Which I dont mind that either. I love good food. We went to Tanger Outlet on 17 in Myrtle Beach and I got right much of my shoppin for Wesley done there. After we caught a nap we ate supper at Capt. Benjamin's Calabash resturant. Let me just say this..... There was no way I could eat $27.00 worth of food. That's how much the plates were. $26.95 a person. All you can eat buffet. It was good, but we filled up fast. After that we went over to Myrtle Beach Mall and I got a much needed haircut, and shopped at Bass Pro Shop. We tried to get Wesley to talk to Santa, but NO way he said...
Sunday was more shopping. We hit Tanger Outlet on 501, I didnt buy anything there. I was pretty much done on Saturday. We ate supper at Johnny Rockets. Its set as a 1950 diner with the jukeboxes there on the table. It was very good too.
We then headed back out into the cold to see the Christmas lights and enjoy some Christmas music. All in all we had a wonderful time. I sure did need the time away from home. But I am soooo glad to be back. There is NO place like home!!
We laughed while we were there. My mama is not one to have her picture taken. We talked abou how she is like that neighbor from that TV show Home Improvents. I think his name is Wilson. You know they never show his face, all you ever see is his eyes. So mama because you are not a "team player" - giggle this is for you... Daddy he plays right along. Thank you Daddy...
Thank you Mama and Daddy for letting us tag along with y'all. We had a wonderful time..
Ok, here's the slideshow.. Thanks for peekin'.