Before: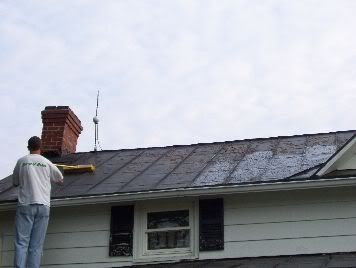 The pain of having a tin roof. Some of you may know what Im talking about. We have the old tin that has to be painted every so many years. I wish that we could put the new tin that requires no painting, but right now that is just not an option. Right now that is the pain we are experiencing. Hubby has been busy all day painting our roof. It will look so much better when he gets through.
The joy of a tin roof. I love the look of the tin. Gives the house that old age look. I love it when it rains. The sound the rain makes on the roof is so soothing. I could just sleep and sleep when it rains.
There is so much that needs to be done. Shutters need to be repaired and painted, the windows on the outside need to be painted, and my list could go on and on... Its tough owning your own home. There is always something that needs to be done.
After: